N2, O2, and CO2 in Acrylic Syrup
Poly methyl-methacrylate (PMMA) is used in the production of high-grade acrylic sheets for skylights, spas, and bath tubs. Crucial to the process is the removal of dissolved atmospheric gases in the pre-polymerization syrup - excess gas can cause trapped bubbles, discoloration, or localized opaque spots.
Removal of the gases is accomplished by holding the syrup under vacuum for an optimum length of time, determined by quick analysis with a PDD. The upper chromatogram is before the degassing process; the lower one, after.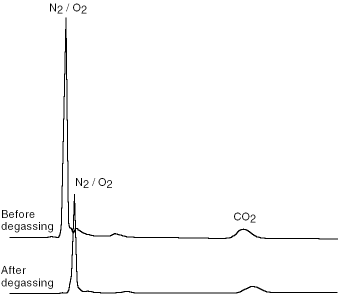 Courtesy of Aristech Chemical Corp., Benku Thomas, Senior Research Engineer
Run conditions
Sample
Poly methyl-methacrylate syrup (before and after degassing)
Sample volume
1 µl, splitless
Injector temp
250°C
Detector mode
Helium photoionization
Discharge gas
Helium @ 30 ml/min
Dopant gas
None
Detector temp
180°C
Column
2 m x 1/16" OD HayeSep micro packed column
Column temp
25°C for 5 min, to 250°C at 20°C/min
Attenuation
1 x 10-1