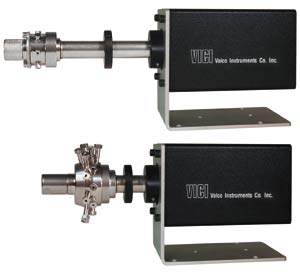 Valves which will be installed in ovens or heated zones require a standoff assembly, which locates the actuator out of the heated zone and supports both the valve and the handle or actuator. The 5/8" outside diameter standoff tube extends through the oven wall and is secured by means of a clamp ring supplied with the assembly.
If you are converting an actuated valve from a closemount to a standoff application, order the appropriate clamp ring and two screws in addition to the standoff assembly.
Mounting a selector on a universal actuator requires a special standoff assembly which is keyed to both valve and actuator. The key guarantees proper alignment and positioning of the valve.
Standoff assemblies for universal actuators
Valve type
Standoff length
Product No.
Valco and Cheminert selectors
(keyed standoff)
2"
2SOAMMP
3"
3SOAMMP
4"
4SOAMMP
6"
6SOAMMP
Valco and Cheminert two position
1 or 2 mounting holes
2"
2SOA
3"
3SOA
4"
4SOA
6"
6SOA
No mounting holes
2"
2SOAMP
3"
3SOAMP
4"
4SOAMP
6"
6SOAMP
Clamp rings and screws for attaching standoffs to microelectric actuators
Valve type
Description
Product No.
Two position valves
Clamp ring
CR8
Screw (order 2)
HWSC-SC8-8B
Selectors
Clamp ring
CR10
Screw (order 2)
HWSC-SC8-6TDH
Top