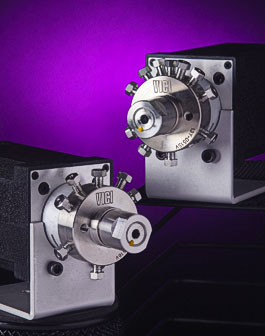 Protect your work – block any possible diffusion from the atmosphere
Protect your workplace – safely vent any fugitive emissions from the valve
The measurement of low ppb atmospheric gas concentrations may necessitate the purging of any leakage across the sealing surfaces and/or any diffusion through the sealing material. Designs which employ a "purging groove" on the rotor are successful at capturing surface leaks, but are ineffective at purging the air which diffuses through the polymeric rotor.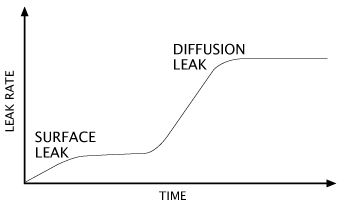 Valco offers two methods for capturing and purging both types of leakage: a valve with the purge feature built in, or a purge housing around a standard valve.
Both methods are available for most Valco injectors and selectors with 1/16" or 1/8" fittings; however, space-saving internally purged versions are not available for some smaller bore 1/16" models. Some example product numbers are listed below.
Internally purged sampling and switching valves, 1/16" fittings, 0.75 mm bore
Actuator
4 port
6 port
8 port
10 port
Air
A2C4UWEPI
A2C6UWEPI
A2C8UWEPI
A2C10UWEPI
Universal
EUD-2C4UWEPI
EUD-2C6UWEPI
EUD-2C8UWEPI
EUD-2C10UWEPI
Internally purged internal sample injectors, 1/16" fittings, 0.75 mm bore
Actuator
.2 µl
.5 µl
1 µl
2 µl
Air
A2CI4UWE.2PI
A2CI4UWE.5PI
A2CI4UWE1PI
A2CI4UWE2PI
Universal
EUD-2CI4UWE.2PI
EUD-2CI4UWE.5PI
EUD-2CI4UWE1PI
EUD-2CI4UWE2PI