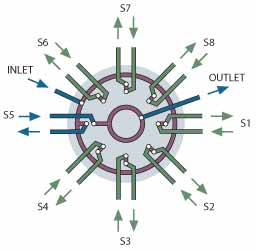 The STF selector is a variation of the ST flowpath, with the single difference that the non-selected streams are returned to their own vents or sources rather than being dead-ended or trapped as they are in the standard ST configuration.
Low pressure STF selectors are made of Nitronic 60, with a rotor made of Valco E, a polyaryletherketone/PTFE composite. Valves are rated at 200 psi gas and 200°C.
Valves can be actuated manually or automated with pneumatic or electric actuators. GC valves usually require a standoff - an extension between the valve and actuator which allows the valve to be mounted in the heated zone while the actuator or handle remains outside at ambient temperature. Standoffs are available in lengths of 2", 3" 4", and 6".
Go to product number charts