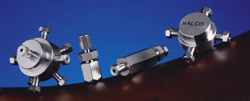 Industry standard Valco compression fittings form stable and reliable connections of 1/32", 1/16", and 1/8" tubing in UHPLC applications.
Pressure considerations
We have successfully tested 360 micron, 1/32", and 1/16" fittings to 50,000 psi. For 1/8" tubing, the numbers are much lower. We tested several IDs to the point of failure, with the following results:
OD
ID
Failure pressure (psi)
1/8"
.040"
35,000
.060"
29,000
.085"
17,000
However, maximum usage pressure depends on multiple factors, such as tubing hardness, the thickness of the tubing wall, the application, and your own comfort zone. Some believe that a 50% safety margin is prudent, while others are comfortable with 30% or even 20%. In any case, exercise an abundance of caution in any application with potential for catastrophic release of stored energy.