Microbore column end fittings have a .25 mm bore. We offer versions with internal or external fittings, with or without a 2 micron frit installed.

Replacement frits for our column end fittings are available in titanium, stainless, and Hastelloy C, in a variety of ODs.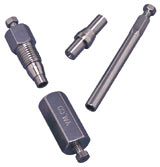 Precolumns are available in 2 cm and 5 cm lengths. Both lengths are used in conjunction with a column end fitting. They can be used as analytical columns, but a more typical use is as a guard column installed between the injector and the analytical column.