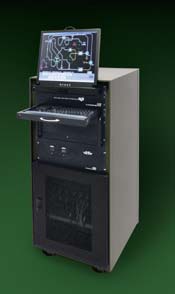 This product has been updated.
Go to new version.
When gas purity is essential
Automated low-level detection of impurities in bulk, rare, and semiconductor gases
Ideal for producers, end users, and QA/QC
Multiple application capability in a single instrument (optional)
Customizable data collection and output
Genuine Valco valves, fittings, and detectors
The TGA is a turnkey trace gas analyzer with all the software and hardware required for the automated analysis of low ppb impurities in a variety of gases. Each system is built to customer specifications from standard VICI parts, with all methods, operations, and procedures documented in a custom validation packet.
Every VICI TGA performs detection of impurities in He as a basic application, but analyzers can be configured for other single or multiple gas matrices. The sampling system and industrial grade CPU can be rack-mounted, comprising a totally integrated unit. Standard features also include configurable data sharing through the included OPC server and automated routine maintenance processes.
Please call us at 800 367-8424 for more details, or email the VICI TGA department directly.
Support
Tech support for the life of the instrument is included in the purchase price, beginning with thorough application validation and documentation and on-site installation and training. Once the instrument is installed, support is available via phone or remote access.
Preconfigured applications
Choose a complete, turnkey analyzer for:
PPB sulfur in H2
PPB sulfur in CO2
Impurities in bulk gases: He, H2, Ar, O2, N2, CH4, C2H6, NH3, CO2, CO
Impurities in rare gases: He, Ne, Kr, Xe, Rn
Impurities in semiconductor gases: H2, SiH4, SiF4, HBr, CF4, CCl4, NF3, C2F6, C3F8, N2O, C2H2, C2H6, C3H4, PH3, AsH3, SF6, NH3
Top

Options
User-configurable analog and digital outputs
Upgraded sampling system with expanded inlet and calibration options
Multiple application capabililty
Electronic flow measurement and validation
Trace moisture detection
Integrated rack mounted components
Special alloy construction or system passivation with Sulfinert® or Silcosteel®
User-defined alarms
Automated calibration and calibration validation
Remote access and control