5,000 psi
Microbore
Through-handle
Continuous flow
1/16"
0.25 mm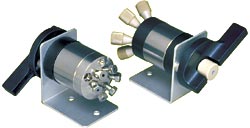 HPLC through-the-handle injector
Model C1CF is a 6 port through-the-handle external loop injector with an engraving on the stator which extends from port 2 part of the way to port 3. This stator channel maintains pump flow between ports 2 and 3 during most of the switching cycle, virtually eliminating pressure spikes.
Because the handle is integral to the design, all Model C1CF valves are manual, with position feedback standard.
Valves with a PAEK stator include 1/16" PEEK nuts and ferrules and a 5 µl PEEK sample loop. Valves with an N60 stator include 1/16" stainless steel nuts and ferrules and a 5 µl SS sample loop. Order other sample loops separately.
5,000 psi
Microbore
Through-handle
Continuous flow
1/16"
0.25 mm
Microbore HPLC continuous flow
through the handle injectors
Available only in manual version. Position feedback included.
Stator material
Description
Product No.
PAEK
Manual
C1CF-1346
Replacement rotor
C1-13R6
Replacement stator
C1CF-1C46
N60 SS
Manual
C1CF-1006
Replacement rotor
C1-10R6
Replacement stator
C1CF-1C06
Replacement injector fitting

C-261
Top