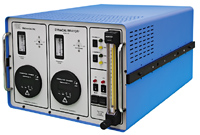 CE-certified
Temperature control with an accuracy of ±0.01°C from 5°C above ambient to 110°C
PPB to high PPM range
Two independently-controlled permeation chambers
This innovative design features two separate permeation chambers with independent temperature control systems. The chambers can be used independently, or together to combine concentrations of trace components. Separate solenoid valves allow the carrier flows to be switched from the dilution flow to a vent port.