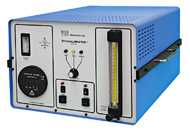 CE-certified
Temperature control with an accuracy of ±0.01°C from 5°C above ambient to 110°C
PPB to high PPM range
Multiple calibration modes
The Model 340 adds a front panel mode control switch to select among zero, span, or remote calibration modes. In the zero mode, scrubbed air is delivered to the stream outlet. In the remote mode, the Model 340 can be externally programmed to deliver a zero and a span reference on command.