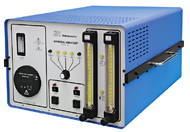 CE-certified
Temperature control with an accuracy of ±0.01°C from 5°C above ambient to 110°C
PPB to high PPM range
Multiple calibration modes
Unique "through-port" feature
Ordinarily, the plumbing connections between the sample manifold, analyzer, and calibrator must be changed for each calibration. The Model 450's unique "through-port" feature eliminates this chore. The mode control switch selects among standby, zero, span 1 (low concentration), span 2 (high concentration), and remote modes. In the remote mode, the Model 450 can be externally programmed to operate in all of its functional modes.