Downstream-referenced fixed span flow controller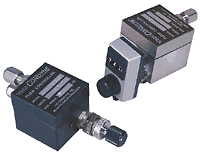 Model 300 gas flow controller
The Model 300 maintains a constant flow rate as long as the outlet pressure remains constant. (Most users allow the gas to be released at atmospheric pressure.) While the supply pressure might fluctuate from variations in sampling pressure or from chemical reactions taking place, the flow rate remains stable.
The Model 300 will accurately maintain the set flow rate in spite of fluctuating upstream pressure — even if the fluctuation is to within 10 psi of the supply pressure. When the flow controller is equipped with the optional Spectrol digital dial, settings are reproducible to better than 1%. The maximum flow rate available is 1.6 L/min with ambient downstream pressure.
NOTE: With all our flow controllers, the inlet pressure must exceed the outlet pressure by 10 psi.
Select a knob style and body material below to view product numbers.
Basic knob
Screwdriver adjustable
Knob + 3-digit dial
Knob + 4-digit dial
Model 300: Aluminum body, standard control knob
Diaphragm material
Flow rate
/min
Product No.
Viton
0-200 mL
FC30AV1K
0-300 mL
FC30AV2K
0-800 mL
FC30AV3K
0-1.6 L
FC30AV4K
Stainless steel
0-200 mL
FC30AS1K
0-300 mL
FC30AS2K
0-800 mL
FC30AS3K
0-1.6 L
FC30AS4K
Model 300: Stainless body, standard control knob
Diaphragm material
Flow rate
/min
Product No.
Viton
0-200 mL
FC30SV1K
0-300 mL
FC30SV2K
0-800 mL
FC30SV3K
0-1.6 L
FC30SV4K
Stainless steel
0-200 mL
FC30SS1K
0-300 mL
FC30SS2K
0-800 mL
FC30SS3K
0-1.6 L
FC30SS4K
Model 300: Aluminum body, 3-digit dial
Diaphragm material
Flow rate
/min
Product No.
Viton
0-200 mL
FC30AV1S3
0-300 mL
FC30AV2S3
0-800 mL
FC30AV3S3
0-1.6 L
FC30AV4S3
Stainless steel
0-200 mL
FC30AS1S3
0-300 mL
FC30AS2S3
0-800 mL
FC30AS3S3
0-1.6 L
FC30AS4S3
Model 300: Stainless body, 3-digit dial
Diaphragm material
Flow rate
/min
Product No.
Viton
0-200 mL
FC30SV1S3
0-300 mL
FC30SV2S3
0-800 mL
FC30SV3S3
0-1.6 L
FC30SV4S3
Stainless steel
0-200 mL
FC30SS1S3
0-300 mL
FC30SS2S3
0-800 mL
FC30SS3S3
0-1.6 L
FC30SS4S3
Model 300: Aluminum body, 4-digit dial
Diaphragm material
Flow rate
/min
Product No.
Viton
0-200 mL
FC30AV1S4
0-300 mL
FC30AV2S4
0-800 mL
FC30AV3S4
0-1.6 L
FC30AV4S4
Stainless steel
0-200 mL
FC30AS1S4
0-300 mL
FC30AS2S4
0-800 mL
FC30AS3S4
0-1.6 L
FC30AS4S4
Model 300: Stainless body, 4-digit dial
Diaphragm material
Flow rate
/min
Product No.
Viton
0-200 mL
FC30SV1S4
0-300 mL
FC30SV2S4
0-800 mL
FC30SV3S4
0-1.6 L
FC30SV4S4
Stainless steel
0-200 mL
FC30SS1S4
0-300 mL
FC30SS2S4
0-800 mL
FC30SS3S4
0-1.6 L
FC30SS4S4
Model 300: Aluminum body, screwdriver adjustable operator
Diaphragm material
Flow rate
/min
Product No.
Viton
0-200 mL
FC31AV1