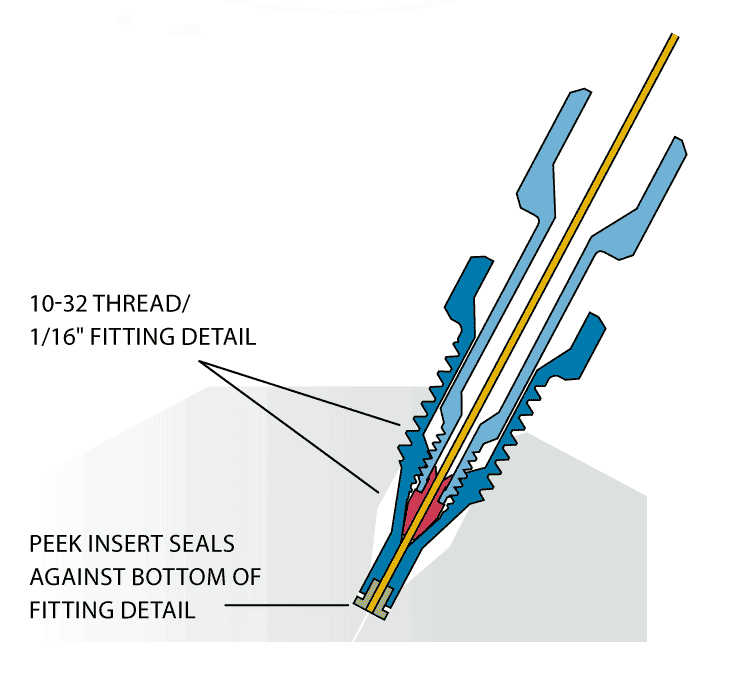 360 µm to 1/16" direct-connect fitting
Fingertight to 25,000 psi (with 150 micron ID tubing)
Eliminates dead volume present in competing designs
For use in valves with port size of 150 microns or smaller
NOTE: To ensure zero dead volume with this or any other fitting that seals on the end of the FS tube, the tube end must be prepped with our fused silica cutting/polishing kit, product number FS-KIT.
Our new C360IZR1 fitting connects a 360 µm FS tube directly into a 1/16" fitting detail, with the bore of the FS tube precisely aligning with the bore of the valve. For proper functioning of the fitting, tubing ID and valve port diameter must be no larger than 150 microns. Larger tubing IDs will not increase the flow, since flow will be limited by the 150 micron maximum bore of the valve.
The main body of the fitting (the darker blue part in the illustration) is available in standard, short, and long versions, with knurled or hex head. The hex and long versions provide easier installation when space gets tight. (Ports get closer together as the number of ports increases.)
Call to discuss your application.
Ruggedized fused silica
After the lapping operation, the fused silica line can be ruggedized by threading it through a length of 1/32" OD x .020" ID PEEK or ETFE tubing (product numbers TPK.520 or TTZ.520). The protective sleeve should run the entire length of the line, terminating about 1/4" inside the secondary fitting (the lighter blue part in the illustration).
360 µm to 1/16" direct-connect fittings
The fittings below are standard length, with a glass-filled PEEK ferrule. Call for other options.
| Description | Product number |
| --- | --- |
| Hex main body | C360IZR1HNPKG |
| Knurled main body | C360IZR1KNPKG |