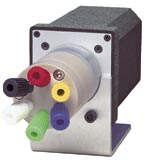 The Cheminert line offers valves with 4, 6, 8, or 10 ports. Pick from 1/16" Valco ZDV fittings, 1/4-28 fittings for 1/16" tubing, or 1/4-28 fittings for 1/8" tubing.
All models are available in manual, air, or electrically-actuated versions.
Injectors and switching valves
Select option in right column for product numbers and information.
Top