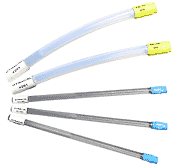 Direct from the manufacturer
In stock for immediate delivery via air or ground
Drop shipped globally for no additional fee
No minimum order
Volume discounts -- call for quote
VICI Metronics is the leading manufacturer of explosives, narcotics, and chemical warfare dopants for security (ammonia, DCM, BHT), law enforcement, border patrol, military, correctional, and other trace detection industry professionals.
The explosive dopant kit is a small permeable, inert tube containing dichloromethane (DCM), packaged in a sealed leak tight plastic cylinder. The narcotic dopant kit consists of three small permeable, inert tubes packaged in a leak tight plastic cylinder inside a metal cylinder. The extended life version lasts from 5 to 7 months.
Our team is eager to assist you with special applications.
Dopant kit
Compound
Product No.
Explosives
Dichloromethane (DCM)
100-100-4201-U30
Narcotics
Standard lifetime
Ammonia
110-100-0140-U30KT
Extended lifetime (5-7 months)
Ammonium carbamate
100-100-3121-U30