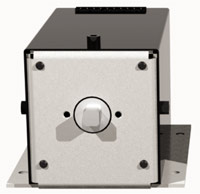 Robust and economical actuator for OEM industrial applications
Metal housing with electrically insulated inputs and outputs
Easy installation with an industry standard connector
Works with most VICI two position valves
The new VICI AG industrial electric actuator (product number EI) is dedicated to industrial applications for manufacturers of in-process analytical instruments for heavy industry.
Designed to be a lean, robust, economical replacement for our venerable two position standard electric actuator, the industrial electric actuator retains only the most critical hardware and firmware features of its predecessor.
The actuators are for use with the following two position injectors and switching valves:
All Cheminert valves
Valco W and UW type GC valves
Valco W type HPLC valves
Customized valves with pressure specifications which differ from those in the catalog are excluded.