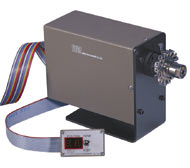 Position indication
Manual control or remote control via contact closures or TTL logic level signals
110 VAC (non-CE)
No power demand on the chromatograph
Multiposition (selector) models work with any of our multiposition valves. The manual controller with LED display allows the user to step sequentially from one position to the next or to return to Position 1 (Home).
A data system with momentary contact closures can direct the step and home functions; 5 VDC negative true logic outputs provide direct position access. A 20-conductor interface cable permits the system to step the actuator sequentially, move the actuator directly to any position, and read the actual valve position.
The actuator's number of positions must be properly matched to the valve's. If you are converting a manual valve to electric actuation and have any doubts about which actuator and hardware you need, contact our technical staff for assistance.
Select an item below to view product numbers
110 VAC multiposition actuators
110 VAC multiposition standard electric actuators
4 position
| Hardware | Product No. |
| --- | --- |
| closemount | E4 |
| 2" standoff | E42 |
| 3" standoff | E43 |
| 4" standoff | E44 |
| 6" standoff | E46 |
| for use w/existing standoff | E4S |
110 VAC multiposition standard electric actuators
6 position
| Hardware | Product No. |
| --- | --- |
| closemount | E6 |
| 2" standoff | E62 |
| 3" standoff | E63 |
| 4" standoff | E64 |
| 6" standoff | E66 |
| for use w/existing standoff | E6S |
110 VAC multiposition standard electric actuators
8 position
| Hardware | Product No. |
| --- | --- |
| closemount | E8 |
| 2" standoff | E82 |
| 3" standoff | E83 |
| 4" standoff | E84 |
| 6" standoff | E86 |
| for use w/existing standoff | E8S |
110 VAC multiposition standard electric actuators
10 position
| Hardware | Product No. |
| --- | --- |
| closemount | E10 |
| 2" standoff | E102 |
| 3" standoff | E103 |
| 4" standoff | E104 |
| 6" standoff | E106 |
| for use w/existing standoff | E10S |
110 VAC multiposition standard electric actuators
12 position
| Hardware | Product No. |
| --- | --- |
| closemount | E12 |
| 2" standoff | E122 |
| 3" standoff | E123 |
| 4" standoff | E124 |
| 6" standoff | E126 |
| for use w/existing standoff | E12S |
110 VAC multiposition standard electric actuators
16 position
| Hardware | Product No. |
| --- | --- |
| closemount | E16 |
| 2" standoff | E162 |
| 3" standoff | E163 |
| 4" standoff | E164 |
| 6" standoff | E166 |
| for use w/existing standoff | E16S |